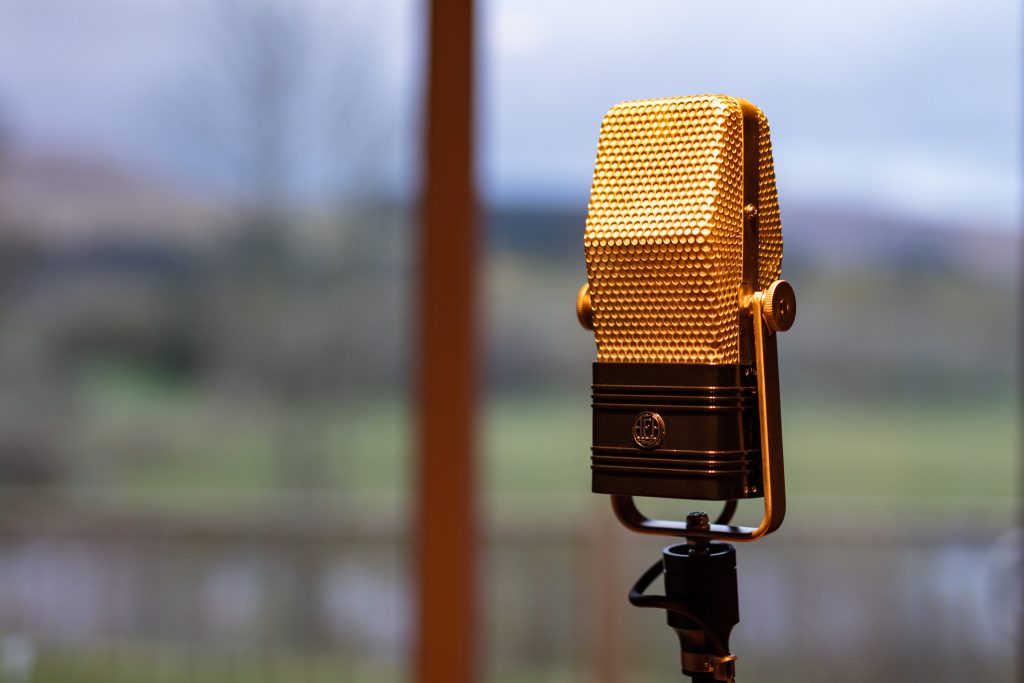 When it comes to gear, we have a collection that we're really proud of. From ribbon mics and condensors to monitors and interfaces.
Townsend Sphere L22 Microphone Modeling 
Schoeps 64 Stereoset (2 x Matched MK4)
SystemAKG 414 (Matched Pair)
Nuemann KM184 (Matched Pair)
Audio Technica 3035
Rode NTK with Mullard tube
Groove Tubes GT33 (matched pair)
Blue Baby Bottle
Shure SM7b
Electro Voice RE-20
SM57 x2
SM58 x 2
AKG D112
Sennheiser MD504 x2
Vintage Sennheiser MD421
x2Vintech 473 (1073 style Pre Amps)
DAV BG8 & BG2 (12 channels total)
AEA TRP Ribbon Pre
Neve 1073lb
Orchid Micro Direct Inject x 4
Tech 21 SansAmp Character Series VT Bass DI
Boss DI-1 x 1
Orchid Amp interface x 2
Barefoot
Barefoot Sound MicroMain45
Behringer P16-M Personal Mixer x4
Behringer P16 x12
Samson headphone amps x2
Beyer Dynamic D770 x 2
Beyer Dymanic DT100 x2
Beyer Dymanic DT150 x 1
SPL Controller MTC 2381
Digidesign Pro Tools 12
Logic Pro X
Mac Pro 5.1
UAD Apollo 16
UAD Apollo 8
UAD Satellite Quad
10 Cores of UAD goodness
Avid Dock
Hughes and Kettner tubemiester 18-valve amp
Orange 112 cabinet
Watkins Copicat tape echo
The Box of Noise- Lots of guitar pedals: some nice, some ugly and re-amping boxes for when you need a bit dirt!
Various soft synths and drum machines
Instruments Available At Request
August Forster Grand Piano
(additional £70 charge for tuning piano)
API 550A Plug-In for UAD-2
API 560 Plug-In for UAD-2
Manley Massive Passive Plug-In for UAD-2
Precision Enhancer Hz Plug-In for UAD-2
Precision Equalizer Plug-In for UAD-2
Precision Mix Rack Collection Plug-In for UAD-2
Pultec-Pro Plug-In for UAD-2
Pultec EQ Collection Plug-In for UAD-2
Pultec Plug-In for UAD-2
Moog Multimode Filter Plug-In for UAD-2
Moog Multimode Filter XL Plug-In for UAD-2
Little Labs IBP Plug-In for UAD-2
EMT 140 Plug-In for UAD-2
EP-34 Tape Echo Plug-In for UAD-2
Galaxy Tape Echo Plug-In for UAD-2
Lexicon 224 Plug-In for UAD-2
Ocean Way Studios Plug-In for UAD-2
RealVerb-Pro Plug-In for UAD-2
1176LN Plug-In for UAD-2
1176SE Plug-In for UAD-2
Empirical Labs Distressor Plug-In for UAD-2
Fairchild Plug-In for UAD-2 (Legacy)
Fairchild Tube Limiter Collection Plug-In for UAD-2
LA2A Plug-In for UAD-2
Manley Variable Mu Plug-In for UAD-2
Neve 33609 & 33609SE Compressor Plug-In for UAD-2
UA 1176 Limiter Collection Plug-In for UAD-2
Teletronix LA-2A Leveler Collection Plug-In for UAD-2
Ampeg SVTVR Classic Plug-In for UAD-2
Marshall Plexi Classic Plug-In For UAD-2
Softube Amp Room Half-Stack Plug-In for UAD-2
Softube Bass Amp Room 8×10 Plug-In for UAD-2
Raw Plug-In for UAD-2
Antares Auto-Tune Realtime Plug-In for UAD-2
Melodyne
Channel Strips, Pre Amps & Microphone Modeling
SSL E Channel Strip Plug-In for UAD-2 (Legacy)
SSL E Preamp and Channel Strip Plug-In For UAD-2
UA 610-A Tube Preamp and EQ Plug-In for UAD-2
UA 610-B Tube Preamp and EQ Plug-In for UAD-2
Townsend Labs Sphere 180 Plug-In for UAD-2
Townsend Labs Sphere Plug-In for UAD-2
Studer A800 Multichannel Tape Recorder Plug-In for UAD-2